The Piecemakers Group at St. Andrew's Episcopal Church in Maryville has some quilts and a wreath to sell. Below are pictures of these items. Please contact us for the cost and information on purchasing these. All of the monies received from the sale of these items go to community outreach - Twisted Sisters Quilt Shop receives nothing from this sale.
SOLD
String Quilt - $100 (57 x 57 inches)
SOLD
Sampler - $295 (Was $350) (82 x 103 inches)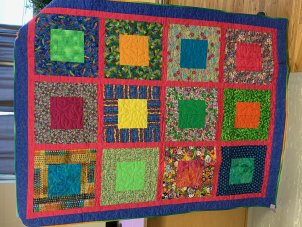 SOLD
$120 (Was $160) 54 x 70 inches
TWISTED SISTERS QUILT SHOP SAMPLES
Hello in Morse Code (quilted) $25 (27 1/2 x 27 1/2 inches)
Sunflowers (Top - not quilted) $25 (44 x 48 inches)
Tree of Greens (Top - not quilted) $45 (48 x 94 inches)
Home of the Free (Top - not quilted) $40 (66 x 68 inches)
MISCELLANEOUS ITEMS
Our landlord, Mr. Jim Gregory, has the following machines for sale that were his mother's who recently passed away. Please contact Jim directly at (865) 567-1289 for more information and/or to purchase.